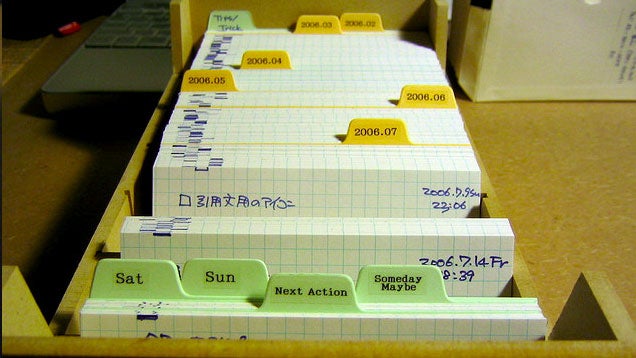 After reading the Getting Things Done audiobook by Dave Allen, I was looking for the easiest analog system that I can start with.
The most influential lesson I learned from the GTD is to keep your action items/reminders/to dos as bullet lists of decision items. Before that, I used to file all the external supporting documents with a post-it of what needs to be done on top. According to GTD, all those reference items just add junk and clouds your head. If all the reference/supporting documents are filed appropriately, then they can be retrieved as needed.
So what we're really working with is a bunch of running action items lists. The problem with keeping those lists in a notebook is that it's hard to sort them out--either I have to take them out of the binding to sort them to similar project/tasks, or rewrite them all over again. Hawk Sugano solved this with an index card system he calls
Piles of Index Card
(PoIC).
With PoIC, you jot down only one idea per card. Each card is timestamped. You can refer to other cards (ex. related tasks) by their timestamp.  The timestamp is a unique identifier. You can make more categories and develop legends for them according to your needs. Hawk uses 4 classification:
Discover, Record, GTD, Cite. 
The weird but clever part about his system is that he uses a linear time-based retrieval system. The cards are organized chronologically, so the cards are not filed according to topic. It can be sorted on a regular review basis if you want to connect numerous cards. Index cards allow for a freeform mind map sorting. The rationale for using timestamp is that if you frequently organize by topic headers, the classification system becomes too complicated. The ones that recurs often or most recently are the "open loops" that need to be closed. I'm still new at it so I haven't really practiced any retrievals.